Data Management Essentials
Good data management is indispensable when the right information has to be available in time.
Only when the context, meaning and coherence are clear, data is deployable as information.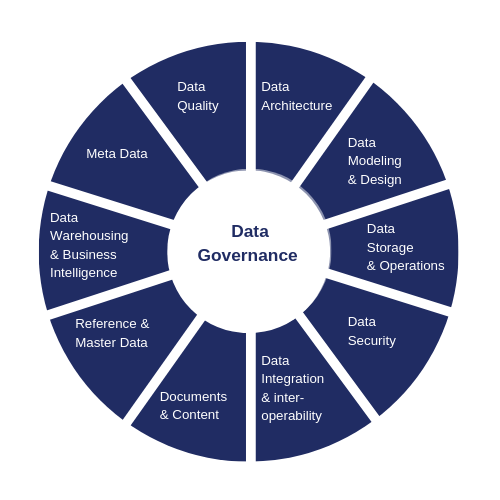 Duration:
2 days
Costs:
€ 1.120,00 excl. VAT
Participants:
4-12
Cluster:
Management & Governance
Planning:
May 8, '23 Culemborg (NL/Online
General information
The amount of data increases and with that also the need for an effective, efficient and ethical way to make use of the available data. But how do you make sure that the present data is topical, complete, reliable, safe and on time available for the execution of company processes and for taking the right management decisions?
In this training we will delve into the different aspects of Data Management and we will show you how to practically manage the (ever growing) amount of data and how to make it available to business carefree.
Your results afterData Management:
You have insight in the value of Data – ("Data as an Asset")
You can position Data Governance and Data Management
You are familiar with the Data Management Body Of Knowledge (DMBOK2) framework

for Data Management

You have knowledge of the different data management disciplines

You can place the meaning of data in the broadest sense of the word

You know which aspects are and are not deployable/important for your organisation

You know how to use data as a stable and consistent strategic instrument

You are aware that working with data is not an individual IT project
This course focuses pre-eminently on those who are involved with the development of and/or transformation to a data-driven organization; IT managers, Information managers, Line of Business managers and anyone who contributes to the internal culture, processes and strategic vision of the organization.
Program
During this two-day course different Data Management theme centered around Data Governance will be discussed. The focus will be on the coherence between diverse themes and creating a consistent and strategic business instrument. At the same time, you will learn what themes are deployable/important for your organization.
Subjects that will be discussed:
The value of Data ("Data as an Asset")
The DAMA-DMBOK Framework
Data Governance
Data Architecture
Data Warehousing & Business Intelligence
Metadata
Master data & Reference data
Data Modeling & Design
Data Storage & Data Operations
Data Security
Data Integration
Data Quality
Privacy by Design (Privacy & Ethics)
Data Capabilities workshop
Our courses are conducted by experienced teachers who have gained experience in consultancy practice.
Teachers
Antoine Stelma
Ferry Eijgel
Registration form Data Management Essentials
*Terms
Cancellation by Connected Data Academy, represented by Connected Data Group B.V.: Connected Data Group will make every effort to allow training to take place but reserves the right to cancel training at any time. Connected Data Group is not responsible for costs incurred by the client as a result of the rescheduling or cancellation of the training. If a training course has been canceled by Connected Data Group, the client will be given the option to transfer the booking to another training course or to have the already paid course fee refunded.
Cancellation by the client: Cancellation is possible up to 5 working days before the start of the training, after which the full registration fee is due. In case of cancellation up to 20 working days before the start, no costs will be charged, in all other cases 50% of the registration fee is due. Cancellation must always be made in writing. The student has a 7-day cooling-off period after signing and can cancel without costs, unless the training has not been planned during this period.
Settlement and invoicing: Unless otherwise agreed and stated as a payment condition, invoicing of the total amount for the training takes place after booking. Payment of the full invoice amount must be made no later than 15 working days before the start of the training. Connected Data Group reserves the right to refuse participation in the training if the invoice is not paid on time. By submitting this form, you order the relevant training. There is a cooling-off period of fourteen days
For the other conditions, Connected Data Group applies the general conditions of FENIT (Filed with the Registry of the District Court in The Hague on June 3, 2003 under number 60/2003)
Printing and typing errors reserved.
Connected Data Academy | www.connecteddataacademy.com
ALSO IN-COMPANY
We offer a (made-to-measure) in-company training if there are multiple colleagues with the same learning objectives.